Let's get real. Commitment is tough.
Not like lovey dovey commitment or the commitment you make to a new dress, pair of boots, etc.
I'm talking commitment to health.
It's tricky.
So a HUGE thanks to Janetha from Meals and Moves for creating Dedicated December.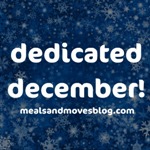 Will you participate?
I AM!
Let's be dedicated this December!
And not just dedicated to chocolate, treats, and presents.
Let's be dedicated to our family, friends, and health.
Happy December!